Blog
Bespoke Celebration & Birthday Cakes Tunbridge Wells, Kent, East Sussex
//php the_excerpt(); ?>
Celebration cakes, Birthday cakes, Baby Shower cakes, Christening cakes, we love a party at Little Boutique Bakery! As professional cake makers, we specialise in stylish bespoke cakes with a unique design flair and attention to detail and are honoured to be an internationally published cake artist. Creating beautiful, delicious cakes as well as matching cookies, cupcakes even full dessert tables for your celebration. You are guaranteed a real centrepiece to set off your celebration and wow your guests. The sky's the limit!
Here is a special bespoke first birthday cake we created for our lovely client's whose wedding cake we made a few years back. It was a delight to design this cute Teddy Balloon cake for their special day. Inside was delicious orange zest cake layered with orange blossom buttercream & a tangerine preserve. (We also cater for gluten free cakes).
Up up and away…..
Some other favourites…
Cute Candy Donut Cake
Beautiful bespoke Mermaid cake in pastels and gold
Number cookie favours
The sweetest Bunnies cupcake tower and cookie pops individually wrapped for guests.
Butterfly & Blossom bespoke cake design for a special birthday
Butterfly Garden cookie pops
Blush & Ivory pretty dessert table cupcakes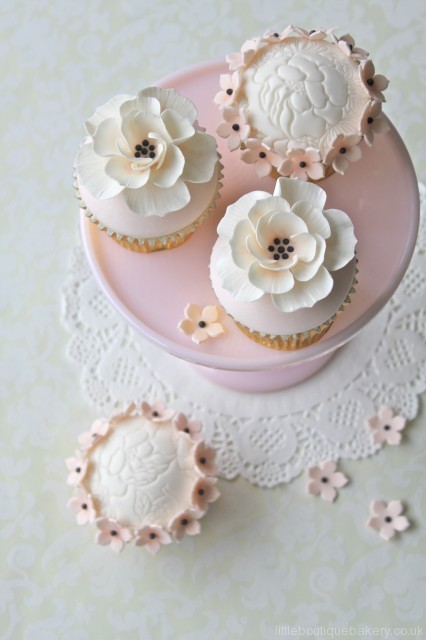 Sweet Roses cake & cupcakes
Adorable Llama Birthday cake
Matching Llama Cookies for guests
Woodland cake
We deliver our special celebration cakes and confections within the Tunbridge Wells and surrounding areas (further afield on request *a minimum spend applies)
Get in touch via our contact form to start creating your special sweet centrepiece for your celebration x
Bespoke Designer Wedding Cakes in Surrey | Rose & Eucalyptus Wedding Cake
//php the_excerpt(); ?>
A classic, elegant and stylish wedding cake design for a wedding at Wotton House in Surrey. This bespoke design was created with different tones of ivory including a lustred tier which featured our couples initials on a decorative monogram plaque. The bottom tier is encased in many sugar hydrangea petals and features delicate pale blush sugar roses and sugar eucalyptus foliage in keeping with the bridal flowers.
Based in Tunbridge Wells, we provide a full bespoke design service and delivery for weddings and events in Surrey with full detailed colour sketches sent to our clients after our design consultation. Specialising in designing elegant and stylish wedding cakes to a full dessert table that will blend beautifully with your special day and your carefully chosen details. We have provided bespoke cakes for many lovely venues in Surrey including Wottton House, Botley's Mansion, Fetcham Park, Great Foster's and Addington Palace.
Bespoke Cake Designer Tunbridge Wells, East Sussex
//php the_excerpt(); ?>
A new bespoke wedding cake design created for an event in East Sussex. This marble wedding cake design features beautiful hand crafted sugar flowers and sugar frills in pink tones and the addition of edible gold leaf and sparkling texture detail. A gilded initials plaque features on the central marbled tier of this striking design and the large vibrant fuchsia pink peony also has gold leaf covered foliage.
This large three tiered cake was created with our Chocolate Truffle cake layered with salted caramel buttercream and our Madagascan Vanilla cake layered with a strawberry preserve & vanilla bean buttercream.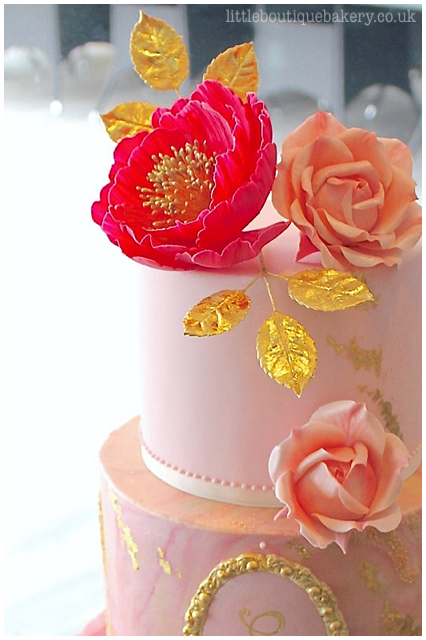 Artisan Designer Wedding Cakes in Tunbridge Wells, East Sussex
//php the_excerpt(); ?>
Our wedding cakes are expertly designed bespoke cakes made here in Tunbridge Wells on the East Sussex border. Your wedding cake is one of the main focal points of your day and probably one of the most important and significant cakes you will ever have. There is nothing we like more than meeting with our couples and poring over their ideas for their special day. We take all of these elements and your preferences to design something unique and beautiful for you, with a truly personal service, each cake is tailored to your special occasion.
Our cakes are made from scratch using the best ingredients like pure butter, fine grade flour, free range eggs, organic fruit – no oils or pre made cake here! Your wedding cake is meticulously crafted the week of your wedding down to the last detail and carefully placed sugar flower and finally hand delivered to your wedding venue for set up.
The wedding cake here was designed for a wedding taking place at the lovely venue of The George in Rye in East Sussex, where we are a recommended supplier. Our bride was looking for something very pretty and feminine in design. This large four tiered wedding cake was created with a soft blush pink icing with large hand crafted sugar roses and hydrangea petals to echo the bridal flowers and lovely sugar pearl detail with a personal hand painted monogram plaque. They chose a madagascan vanilla cake layered with a vanilla bean buttercream and seedless raspberry preserve for their guests to enjoy.
Beautiful Bespoke Wedding Cakes in East Sussex
//php the_excerpt(); ?>
We are based on the East Sussex border in the spa town of Tunbridge Wells and specialise in designing and creating beautiful, bespoke wedding cakes for special events across Sussex and Kent. We are professional wedding cake makers who have designed cakes and confections for many events at lovely venues and private residences throughout the south east and London. We use ingredients such as pure butter, free range eggs, fine grade flour, 70% cocoa Belgian chocolate and organic fresh fruit in all of our wedding cakes which are made fresh from scratch.
Jennie is a widely published cake artist who creates unique and beautiful wedding cakes with original designs that work perfectly to complement all of your wedding details. She works closely with you from initial consultation, where you will be presented with some delicious cake samples and discuss all the details of your wedding and ideas, through the design process with detailed hand drawn sketches, to liaison with your venue and set up on the day.
With our professional full bespoke design service, each client receives a personal, detailed, hand drawn sketch of their wedding cake design.
A bridal white wedding cake with hand piped pearls covering the cake and tumbling sugar hydrangea tipped with edible silver leaf set up at Claridges, London.
An ornate six tiered wedding cake painted with a bespoke mint lustre and gold mouldings detail with ivory sugar flowers set up at Botley's Mansion, Surrey.
A large four tiered romantic and feminine cake in a soft blush pink and gold lustred tier with monogram plaque, swags of pearls and beautiful sugar roses and hydrangea.
A blush, silver and ivory two tiered top cake with a feature large blush sugar rose with hand piped pearls and edible sequin detail. Individual cupcakes with sugar bows, roses and quilting.
A classic and elegant five tiered wedding cake in ivory with pearl swags and a pretty, textured base of blush sugar petals, featuring a sugar peony corsage with ribbon.
A show stopping five tiered wedding cake we designed with lilac and gold stripes, scalloped plum detail and piped pearls to complement the wedding flower palette which were used to dress the base and top of the cake.
A very pretty and striking wedding cake in ivory and blush pink with an edible gold leaf covered tier featuring sugar garden roses in pinks and peach, pearls detail and sparkling gold berries.
Lovely couple Grace & Guy cut their Little Boutique Bakery wedding cake.
We also make perfectly iced biscuits in bespoke designs which can complement your wedding cake. These make perfect wedding favours for your guests or can create a beautiful and unique dessert table display.
Comments and feed back from some of our lovely clients here.
Surrey Wedding Cakes at Botley's Mansion | Blush Rose Wedding Cake
//php the_excerpt(); ?>
Blush icing and beautiful sugar roses in this bespoke wedding cake design. We created this special cake for a lovely wedding at Botley's Mansion in Surrey. The feminine blush colour of the cake features perfectly piped pearl swags highlighted with a pale gold lustre. The hand painted gold lustre tier features a personal monogram sugar plaque of the couple's initials. Large sugar roses decorate the wedding cake with delicate sugar hydrangea and leaves.
For this summer wedding, our couple chose flavours of Chocolate Truffle, Madagascan Vanilla & Strawberry and Zesty Lemon cake for their wedding guests. The romantic and classic wedding cake design was perfect for the lovely light filled Atrium at the venue.
Wedding Cakes East Sussex | Ashdown Park Hotel
//php the_excerpt(); ?>
A beautiful four tiered wedding cake we designed for a wedding at the lovely Ashdown Park Hotel in East Sussex. The wedding cake featured hundreds of hand piped icing pearls and a champagne lustred tier. The special hand painted monogram plaque of the bride and groom's initials design was taken from their wedding stationary and the colours of the cake perfectly matched the blush of the sugar roses and gold leaves.
Our lovely couple Charlotte and Michael chose three different flavours for their wedding cake of organic lemon zest, chocolate truffle and luxury rich fruit cake.
From the Bride…
"We just wanted to say the hugest Thank You to you, for designing and producing the most amazing, beautiful & tastiest wedding cake myself, Michael and most possibly all of our guests, have ever seen. You are so incredibly talented even with your sketch design my visions did not compare. The smell whilst we stood beside it to cut was something else. I didn't want it to be cut but I wasn't to be disappointed as all flavours were exceptional. Thank you so much Jennie!!!"
Wedding cake set up at Ashdown Park Hotel.
Wedding Cakes & Wedding Cookie Favours
//php the_excerpt(); ?>
As well as creating beautiful, bespoke wedding cakes we also specialise in creating bespoke iced wedding cookie favours for your guests. As with our wedding cakes, all of our biscuit favours are made with the best natural ingredients and pure butter here in Tunbridge Wells. We carefully hand bake in small batches with our unique delicate and elegant designs to complement your wedding scheme.
Our Quilted Cookie Pops make a pretty display
Heart Ribbon Cookie favours
Individually bagged with coordinating ribbon for each guest, our popular Love Birds Cookies
Pearl Blossom Cookies
Frame Cookies in Lilac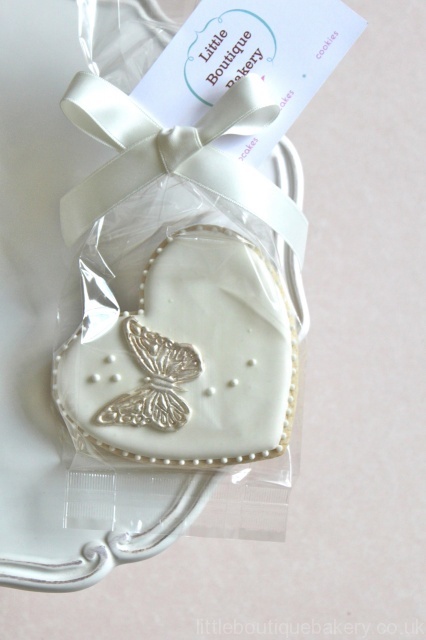 Butterfly Heart Cookie favours in bridal white
Butterfly Garden Cookie Pops in peach & gold
We can create designs to really complement your individual theme, adding a sense of fun for your guests or great for any little ones at your wedding.
Cutest Bunny Cookie Pops
Perfect for a coastal summer wedding, Seahorse Cookie Pops
……or Beach Cookies
Summer Ice Cream Cookies x
Wedding Cake Tunbridge Wells | Pink Orchid
//php the_excerpt(); ?>
A wedding cake designed for a wedding in Tunbridge Wells, Kent. A contemporary pale pink design featuring white sugar moth orchids and personal monogram.
The design included some silver details and font used in the wedding stationary with hand cut lace details around the sides of the wedding cake with some sparkle.
Our lovely couple Charlotte and Sanjog chose our madagascan vanilla cake with a seedless raspberry preserve and vanilla bean buttercream and madagascan vanilla cake with a dark chocolate ganache to serve to their guests.
From the Bride…"Thank you so much for our wonderful cake, all of the guests thought the cake looked stunning and tasted amazing!"
Many congratulations to you both x
Wedding Cakes Surrey | Five Tier Wedding Cake & Real Flowers
//php the_excerpt(); ?>
A beautiful five tier bespoke wedding cake we designed for a Surrey wedding with scalloped stripes in gold lustre and lilac featuring real flowers around the base and top. The plum coloured scallops around the wedding cake add a sense of fun to create this show stopper.
The stunning flower arrangements were created by the lovely bride herself, a florist.