The Cake Blog
First Birthday Cakes | Bespoke Cake Makers East Sussex and Kent
//php the_excerpt(); ?>
We have been making luxury bespoke cakes for your events in east sussex and kent for many years. We are now based near the border just south east of Tunbridge Wells in our specialist boutique bakery and studio.
Celebration cake flavours below are made fresh from scratch with only pure butter and fine grade flour and form the delicious base for your cake. Team your cake with matching cupcakes and decorated biscuits which make lovely favours for guests.
. Madagascan Vanilla Layer Cake (smooth bourbon vanilla) layered with either a strawberry or seedless raspberry preserve & vanilla bean buttercream.
. Madagascan Vanilla Layer Cake (smooth bourbon vanilla) layered with a chocolate ganache buttercream.
. Zesty Lemon Layer Cake (moist with natural citrus zest) layered with an organic lemon curd & vanilla bean buttercream.
. Zesty Lemon Layer Cake (moist with natural citrus zest) layered with a seedless raspberry preserve & lemon zest buttercream.
. Orange Layer Cake layered will a valencian orange zest buttercream and a tangerine preserve.
. Chocolate Truffle Layer Cake layered with a chocolate ganache buttercream.
. Chocolate Truffle Layer Cake layered with a dark chocolate ganache and morello cherry preserve.
Some recent special first birthday cake designs
Flamingo Rose Birthday Cake
Dinosaur Cookie Birthday Cake
Bunny Rainbow Birthday Cake
Teddy Cookie Birthday Cake
Teddy Rainbow Birthday Cake and Biscuits
Safari Cookie Birthday Cake
Butterfly Rainbow Birthday Cake
All of our unique designs can be adapted to any colour scheme and age. Take a look through the gallery or chat to us about our completely bespoke design service for your event.
Bespoke Cake Maker East Sussex and Kent | Birthday Celebration Cakes
//php the_excerpt(); ?>
Our luxury bespoke birthday and celebration cakes are made to order in our specialist boutique bakery and studio based in the East Sussex village of Ticehurst. Available for collection or delivery to surrounding East Sussex and Kent towns and villages within 15 miles, they are designed with unique style and made with delicious flavours and fillings. From the perfect centre piece for the ultimate celebration with a tiered fully bespoke creation with beautiful sugar craft (and add your matching cupcakes or cookies!) to a more simple buttercream delicious drip cake for a special treat.
Our fun and stylish Llama Birthday Cake from our popular cookie cake range
Delicious Chocolate Orange Drip Cake with layers of chocolate sponge, chocolate orange ganache buttercream filling, topped with a dark chocolate ganache drip, orange buttercream and Terrys chocolate orange segments and edible gold leaf.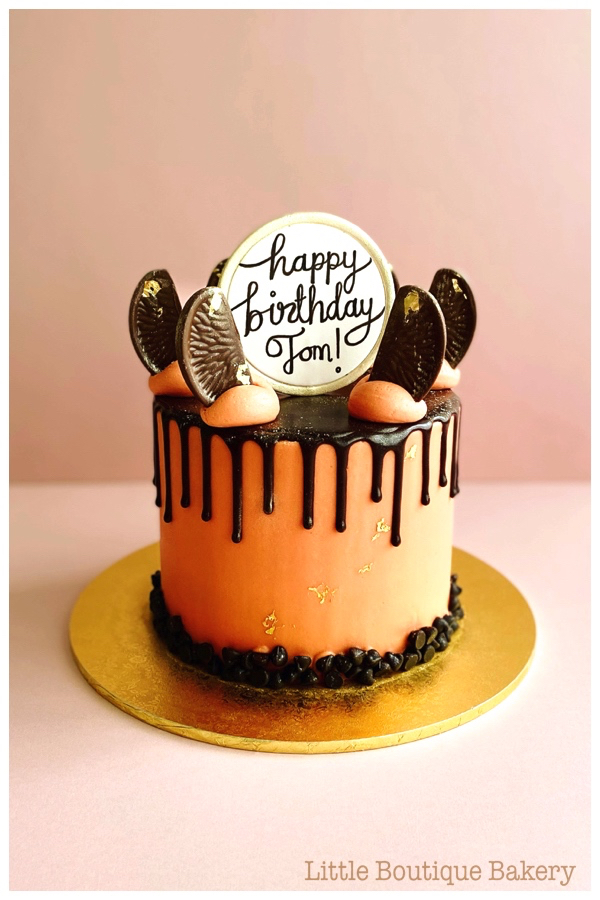 Unicorn Rainbow Cake with bespoke age topper, sugar unicorn, rainbow buttercream and pastel meringues
Roses Vintage Celebration Cake in a pale duck egg blue icing and hand made pink sugar craft roses, blossoms and sugar scroll message for a very special birthday
Pink Rose Drip Cake made with swirls of marbled toned pink buttercream, blush chocolate drip, edible pearls and beautiful fresh roses with a personal sugar plaque. Here as a 6″ (also available in 8″ and 10″ cakes)
Balloons Cupcake Birthday Set. Cupcake sets can come in many designs, this one with hot air balloons as a set of 12 and presented in a ribbon tied box, great alternative to a birthday cake or add to your bespoke cake!
Our Ultimate Chocolate Drip Cake decorated with a generous chocolate ganache drip and loaded with chocolate bars, oreos, sprinkles and a hand made chocolate heart oreo popsicle. Finished with a personalised sugar plaque.
Donut Candy Birthday Cake with cute Kawaii donut topper and pastel candy stripes
Chocolate Drip Cone Cake fun buttercream cake in choice of colours for your chocolate lover with layers of chocolate cake and ganache filling, a giant chocolate cake pop ice-cream cone, chocolate ganache drip and assorted chocolate bar toppings with personal plaque
Bespoke Birthday Cakes and Celebration Cakes East Sussex
//php the_excerpt(); ?>
Time to celebrate! with the best birthday cakes and celebration cakes made to order in our boutique bakery in east sussex just south east of Tunbridge Wells in Ticehurst. We can deliver within 15 miles of TN5 7HE within east sussex and kent towns and villages or we welcome you to collect from us when your cake is ready by appointment. All of our cakes are designed and made from scratch with only the best ingredients, creating beautiful, unique and delicious cakes and confections for your perfect centrepiece.
We make birthday cakes and all types of celebrations cakes as well as decorated iced biscuits and cupcakes to coordinate for a dessert table or perfect for favours. Whether you are having a small get together or planning for a long awaited event, we would love to create for you.
Dinosaur Birthday Cookie Cake
Hello Kitty Birthday Cake
Blossom Butterfly Birthday Cake
Balloons Birthday Cake
Butterfly Rainbow Birthday Cake
Unicorn Biscuit Favour
Teddy Balloons Birthday Cake
Breakfast at Tiffanys Birthday Cake
Rainbow Birthday Cake
Bunny Biscuit Pop
Hydrangea and Pearls Wedding Cake
Flowers Biscuit Pops
Amazing Birthday Cakes and Celebration Cakes delivered East Sussex, Kent |Tunbridge Wells Cake Maker
//php the_excerpt(); ?>
Our special bespoke birthday cakes and celebration cakes are baked to order and delivered in east sussex and kent areas or available to collect. Tunbridge Wells cake maker and owner Jennie is now based at our new premises in the lovely east sussex village of Ticehurst, just south east of Tunbridge Wells in our new boutique bakery. We deliver within 15 miles or you can collect from us with our contactless collection by appointment.
We make beautiful cakes, cupcakes, cookies and other confections which taste just as good as they look. Whether you are looking for a special birthday cake, celebrating an anniversary, a baby or wanting to send a special gift we have got you covered.
Flamingo and Roses Birthday Cake
Celebrations may be smaller at present but they still deserve a special and delicious cake more than ever! We love being at the heart of all your celebrations. We make our delicious artisan cakes from scratch with the finest available ingredients including pure butter, free range eggs, fine flour and delicious fillings. We also provide gluten free if required.
Blossom and Butterfly Birthday Cake
Bunny Rainbow Birthday Cake
Pink Rose Buttercream Drip Cake
Bow Tie Birthday Cake
Beach Shell Birthday Cake
Candy Shop Birthday Cake
Neutral Baby Shower Cake
Dinosaur Birthday Cookie Cake
Butterfly Rainbow Birthday Cake
Roses Celebration/Anniversary Cake
Unicorn Rainbow Birthday Cake
Fill in our contact form or call us on 07702841686 for ordering – we can't wait to create for you.
Beautiful Birthday Cakes & Special Celebration Cakes Tunbridge Wells | Cake Delivery
//php the_excerpt(); ?>
Our beautiful, bespoke birthday cakes and special celebration cakes are hand made in Tunbridge Wells to order and delivered to surrounding towns and villages within 15 miles. We design our cakes to complement your event and they come in delicious flavours to choose from. Everything is made fresh from scratch with the best ingredients.
Some examples of our cakes made for that special event…
Our Butterfly & Blossom cake design in milkshake pink for an 18th birthday party. Delicate sugar blossoms and butterflies decorate this cake, with sugar plaque, pearls and hand piping.
Pink marble and gold three tiered cake for an anniversary party. Featuring gilded and gold leaf details with shades of pink. Sugar frills encircle the bottom tier with marbling effect on the middle tier and a personal sugar plaque. Hand made sugar flowers finish this design.
A pretty two tiered design for a special birthday celebration. Sugar quilting, piping and personalised plaque feature, with large sugar garden rose and butterflies in shades of lilac.
Adorable Hot Air Balloon cake for a special first birthday celebration. Hand crafted teddy bears feature on the cake with balloons, clouds and rainbows.
The sweetest edible details on this special children's birthday cake…
Our rose, gold and ruffles design for a special first birthday party. Ivory ruffles encase the bottom tier, with a gold leaf band and water colour details. A large sugar garden rose features with gold leaves and sparkling berries.
Go to our contact page to enquire about a special cake for your event.
Children's Birthday Cakes Delivered Tunbridge Wells
//php the_excerpt(); ?>
Our Children's birthday cakes and party cakes are delivered in Tunbridge Wells and within 15 miles including towns and surrounding villages such as Sevenoaks, Tonbridge, Southborough, Cranbrook, Wadhurst, Speldhurst, Langton Green, Hildenborough, Bidborough, Groombridge, Chiddingstone and Penshurst.
Our cakes are hand made to order from scratch using the best ingredients and our unique stylish designs. They can be coordinated with our hand iced biscuits which make perfect party favours or can be used to style your dessert table. Cakes are also available in gluten free.
Our cookie cakes come in a selection of designs and colours or pick your own theme and we will come up with your very own bespoke design. Our woodland birthday cake features the cutest owls and red squirrels with little toadstools.
Coordinate your birthday cake with our matching all butter vanilla hand iced biscuits. Perfect gifts for your little guests, such as these cute toadstool cookie favours!
The sweetest and elegant swan birthday cookie cake.
Our Llama cookie cake features adorable llamas and cacti.
Coordinating llama cookie favours.
Too cute! Our Walkies Dachshund Birthday Cake design features two cute dachshund pups in matching coats with rainbow and cloud biscuits and your birthday number.
Contact us here for your event
Dessert Tables and Sweet Displays | Tunbridge Wells, Kent Sussex Delivery
//php the_excerpt(); ?>
Introducing our beautiful new Truffle Tower. Perfect for your special event such as birthdays, baby showers, christenings or corporate it provides the perfect centre piece with over 100 delicious melt in the mouth chocolate truffles for your guests to enjoy and comes in a variety of colours.
Chocolates can be easily removed by guests, perfect to enjoy with coffee.
Why not create a whole dessert table with delicate, perfectly iced cookie pops or cupcakes, brownie bites to pretty meringues. We can also provide coordinating iced cookie favours individually wrapped with ribbon for a special treat for your guests to take away.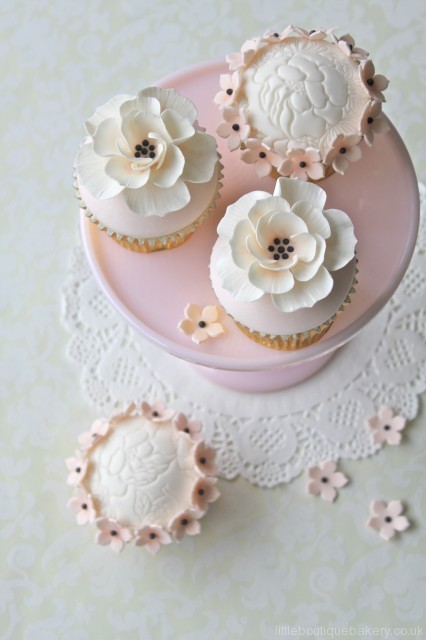 Beautiful Bespoke Wedding Cakes in Tunbridge Wells, East Sussex, Kent
//php the_excerpt(); ?>
A few new bespoke wedding cake designs from our 2019 wedding season. As professional bespoke cake makers based here in Tunbridge Wells on the Kent and East Sussex border, we take great care in designing your perfect wedding cake that fits seamlessly with your special day. Stylish and beautiful, original designs are our speciality coupled with the most delicious flavours. You can choose elements from our portfolio and perhaps alter details such as sizing and colour palette or Jennie will design something completely new for you. We love to see all the details for your wedding in our consultation when designing your wedding cake.
This Rose Ruffle wedding cake was created for the lovely A & N who were married with a private venue in East Sussex and a marquee wedding. The pale ivory iced cake featured a giant sugar garden rose with edible 24K gold leaf details, blush watercolour and a bottom tier encased in hand rolled sugar ruffles. Each tier was a different flavour of chocolate truffle, madagascan vanilla & raspberry and a gluten free organic lemon zest tier.
A few lovely words from our bride "I wanted to say a big thank you for the cake, it was absolutely gorgeous, fitted the theme perfectly…Ive not tasted a large cake so moist and delicate – you are a cake genius". Thank you! it's such a pleasure to create something special for such a memorable day.
This tall elegant Rose Pearl Sparkle wedding cake and cake table was designed for our lovely bride and groom K & H who held their wedding in the heart of Tunbridge Wells at One Warwick Park. The classic ivory iced cake had an injection of subtle glamour with edible sparkle covered tiers and sugar pearls detail in the design. The cake design was finished with beautiful blush avalanche fresh roses which were provided by local florist Charlotte at The Floral Workshop. The cupcakes to match were decorated with blush sugar roses, rosebuds and sugar pearls and surrounded the cake with scattered rose petals. To serve their guests they chose classic Madagascan vanilla cake layered with vanilla bean buttercream and a seedless raspberry preserve.
The Cherry Blossom wedding cake was designed for our lovely couple S & M who were married at Horsley Towers in Surrey. The wedding cake featured hand made sugar cherry blossom and peony flowers with a hand painted cherry blossom design on the tiers. A metallic rose gold/copper tier tied in with the wedding colour palette and was finished with a personal monogram plaque echoing the wedding stationary details.
Bespoke Celebration & Birthday Cakes Tunbridge Wells, Kent, East Sussex
//php the_excerpt(); ?>
Celebration cakes, Birthday cakes, Baby Shower cakes, Christening cakes, we love a party at Little Boutique Bakery! As professional cake makers, we specialise in stylish bespoke cakes with a unique design flair and attention to detail. Creating beautiful, delicious cakes as well as matching cookies, cupcakes even full dessert tables for your celebration. You are guaranteed a real centrepiece to set off your celebration and wow your guests. The sky's the limit!
Here is a special bespoke first birthday cake we created for our lovely client's whose wedding cake we made a few years back. It was a delight to design this cute Teddy Balloon cake for their special day. Inside was delicious orange zest cake layered with orange blossom buttercream & a tangerine preserve. (We also cater for gluten free cakes).
Up up and away…..
Cute Candy Donut Cake
Beautiful bespoke Mermaid cake in pastels and gold
Number cookie favours
Christening Cake
The sweetest Bunnies cupcake tower and cookie pops individually wrapped for guests.
Butterfly & Blossom bespoke cake design for a special birthday
Butterfly Garden cookie pops
Blush & Ivory pretty dessert table cupcakes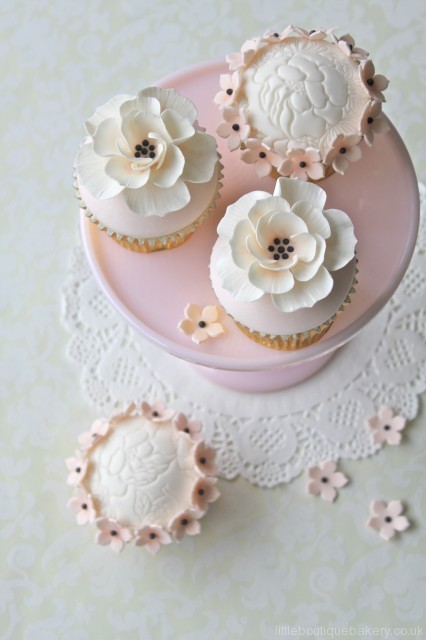 Sweet Roses cake & cupcakes
Adorable Llama Birthday cake
Matching Llama Cookies for guests
Swan Birthday Cake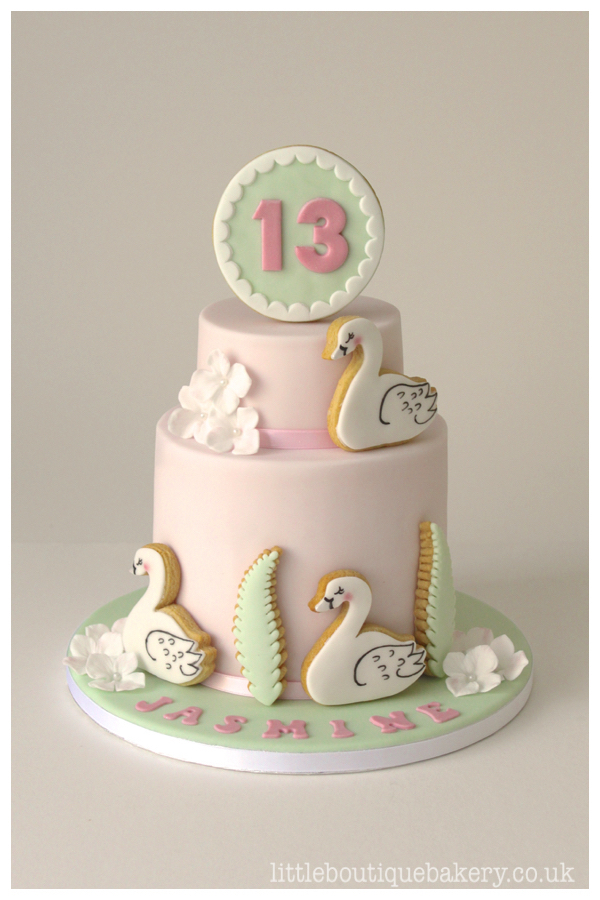 Woodland cake
We deliver our special celebration cakes and confections within the Tunbridge Wells and surrounding areas (further afield on request *a minimum spend applies)
Get in touch via our contact form to start creating your special sweet centrepiece for your celebration x
Bespoke Designer Wedding Cakes in Surrey | Rose & Eucalyptus Wedding Cake
//php the_excerpt(); ?>
A classic, elegant and stylish wedding cake design for a wedding at Wotton House in Surrey. This bespoke design was created with different tones of ivory including a lustred tier which featured our couples initials on a decorative monogram plaque. The bottom tier is encased in many sugar hydrangea petals and features delicate pale blush sugar roses and sugar eucalyptus foliage in keeping with the bridal flowers.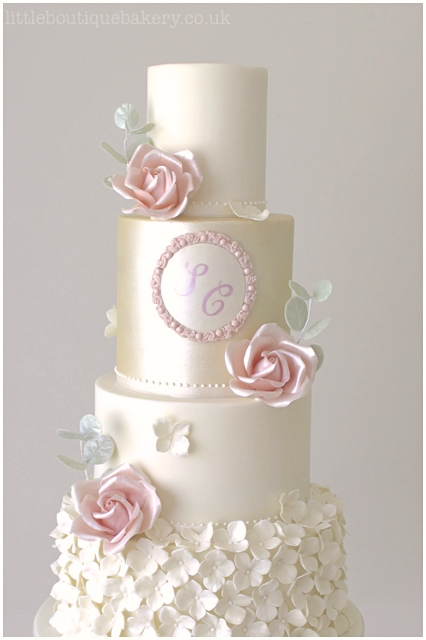 Based in Tunbridge Wells, we provide a full bespoke design service and delivery for weddings and events in Surrey with full detailed colour sketches sent to our clients after our design consultation. Specialising in designing elegant and stylish wedding cakes to a full dessert table that will blend beautifully with your special day and your carefully chosen details. We have provided bespoke cakes for many lovely venues in Surrey including Wottton House, Botley's Mansion, Fetcham Park, Great Foster's and Addington Palace.